Korean salad cabbage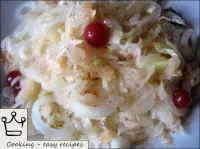 6 servings20 min your 20 min
Korean cabbage, the recipe for which is offered here, is easy to cook. It is healthy and tastes savoury due to hot peppers, onions and garlic, and cranberry berries give it a pleasant sourness.
---
White cabbage - 1 kg, Salt (spoons without a top) - 3 tbsp. spoons, bulb onions - 1 pc., Garlic - 2 wedges, Hot red pepper - 0.5 tsp, Lemon juice - 1-2 tsp, Vegetable oil - 2-3 st l, Sugar - 0.5-1 tsp, Cranberry berries for serving

How to make kale in Korean? Prepare the ingredients.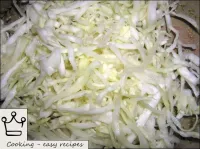 Peel the cabbage from the top leaves. Cut into strips, sprinkle with salt and leave for 2-3 hours.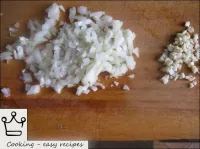 Peel the onions and garlic, wash and finely chop.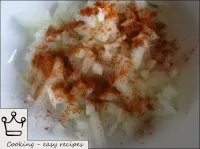 Mix the chopped onions and garlic with hot red ground pepper. Add to salted cabbage.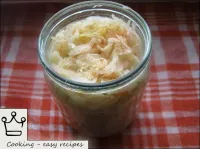 Mix the cabbage and put tightly in glass or enameled dishes, put the load on top and leave for 2-3 days.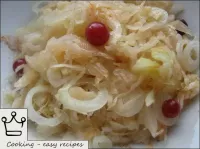 You can serve cabbage in Korean and on the day of cooking, adding lemon juice to taste. When served, the cabbage is mixed in Korean with onions cut into thin rings, seasoned with vegetable oil and sugar to taste. You can decorate the cabbage with cranberry berries. Enjoy your meal!