Mashed potatoes (dietary)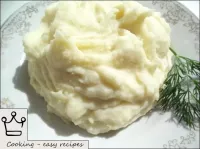 3 servings
Mashed potatoes are a lovely all-round side dish. Mashed potatoes will be especially tasty if you add not only milk and butter to it, but also yolk and a little sour cream. And also do not forget about some nuances of the cooking process.
---
Potatoes - 500 g, Milk - 125 ml (0.5 cups), Butter - 40-50 g, Salt - 0.5 tsp (to taste), *, Additional (optional):, Sour cream - 1 tsp, Yolk - 1 pc., Sugar - 0.5 tsp (to taste)

Prepare products.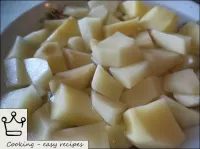 Peel the potatoes and cut into medium pieces.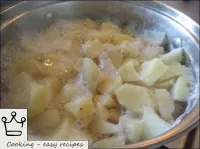 Pour water in the pan to cover the potato pieces lightly. Bring to a boil, reduce heat and cook potatoes for 20-25 minutes, until soft.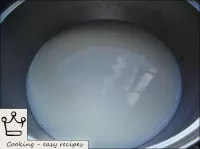 Heat the milk. Only hot or warm milk is added to mashed potatoes, but not cold.
When the potatoes are cooked, drain the water from the pan. You can briefly return the pan to low heat and slightly dry the potatoes.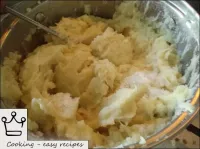 Mash the potatoes with a potato grinder. Do not use the blender, otherwise the mash will become sticky.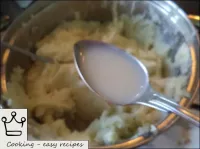 Salt the mashed potatoes and beat well (you can whisk), adding a little hot milk.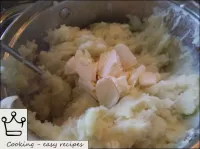 Add butter. Beat the mash to make it smooth and airy.
To make mashed potatoes even tastier, you can add sour cream and yolk. You can also pour a little sugar (such mashed potatoes will appeal to children more).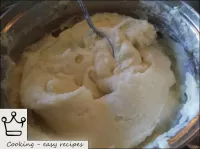 Beat again, and the mashed potatoes are ready.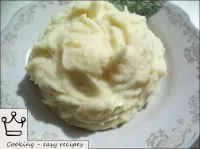 Enjoy your meal!