Moscow jam pie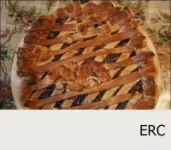 1 hour 30 min
This pie can be molded open, semi-open or closed. Bake the cake in smooth or corrugated flat shapes.
---
flour - 2.5 cups, sugar - 2 tbsp. spoons, butter - 1 tbsp. spoon, or margarine - 1 tbsp. spoon, dry yeast - 1 teaspoon, salt to taste, water - 1 cup, vegetable oil (for lubricating the form) 1 tbsp. spoon, jam - 1.5 cups, eggs (for lubricating dough) 0.5 pcs.

To make an open pie, knead the yeast opar dough. Roll the dough into a formation and put it in a mold lubricated with oil. Lift the edges of the dough a little (make the sides) so that the jam does not flow out when baking. Apply a layer of jam evenly to the dough layer. Leave the cake to stand for 20-25 minutes. After completely proofing the edge of the pie, grease with egg. Cook the semi-open pie in the same way as an open one, but take 3/4 of the dough for the lower layer. Roll the 1/4 part of the dough into a 3-5 mm thick formation, and then cut into 10 mm wide strips. Apply fruit filling to the lower layer of dough and lay thin strips of dough crosswise on it, in the form of a mesh. After full proofing of the dough strip, grease with egg. To make a closed pie, divide a piece of dough in half and roll out two layers. Place one dough layer in an oiled mold, apply a layer of jam, and then coat with another dough layer. Lubricate the surface with egg. Use a knife or notch to make jewelry in the form of leaves, put on a pie, grease with an egg. Bake the cake in a preheated oven at an average temperature (180-190 degrees) until rosy.